Huge crowds gathered in the city of Liverpool in northwest England in direct opposition to warnings from health authorities and despite the fact that the city is at the center of a second wave of COVID-19 infections that has meant over 90 percent of its intensive care beds are occupied.
Liverpool City Region is also just hours away from a Tier-3 lockdown, the highest level in England, in which pubs will be forced to close unless they can operate as restaurants only, with household mixing also banned in a bid to stop the spread of the virus.
Huge crowds were seen partying and shouting before on the last evening before pubs shut, in what the Mayor of the city, Joe Anderson, described as shameful scenes. He took to Twitter and wrote: "These pictures Shame our City, attacking our brave Police Officers is unacceptable. Our Health Service is creaking,300 in Hospital&30 people dead in week, ignoring these facts is why we are in Tier 3 measures."
Footage from the city which was uploaded to social media showed people dancing and singing around a police car. Intensive care doctors in the city also condemned the scenes, telling Sky News that there were people on trolleys in the corridors waiting for beds. Councilors in the city also condemned the behavior. City center councilor Nick Small wrote on Twitter: "Idiots putting themselves, their friends, families and everyone else at risk, destroying jobs and our hospitality sector while they do it."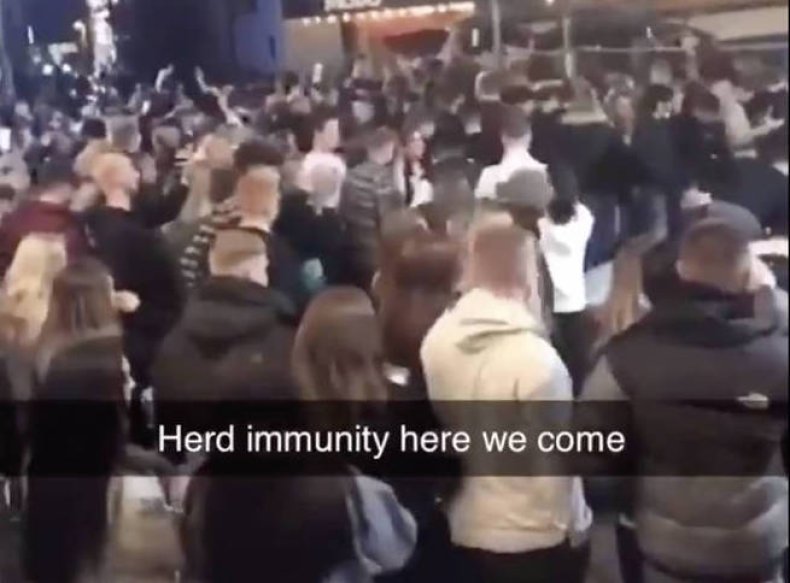 Merseyside Police said in a statement that a large crowd had been dispersed quickly and safely. Chief Superintendent Peter Costello said: "While we understand how the new rules, which are due to be implemented [on Wednesday], are frustrating for some, we would continue to advise everyone to abide by them, including keeping the social distancing for the safety of everyone."
It comes as a second wave of COVID-19 infections continues to spread across the country, with north-west England particularly affected.
Meanwhile, the opposition Labour Party leader Sir Keir Starmer has called on the government to impose a two to three-week "circuit breaker" lockdown across England to help stop the second wave of COVID-19. Sir Keir said it was clear that the government no longer had a grip on the crisis.
He said: "There is no longer time to give the prime minister the benefit of the doubt. The government's plan simply isn't working. Another course is needed. That is why I am calling for a two- to three-week circuit break in England – in line with Sage's recommendation."