Michigan Governor Gretchen Whitmer fired back at President Donald Trump on Saturday after he called for her to be jailed at a campaign rally in Muskegon, prompting the crowd to chant "lock her up."
Trump lashed out at Whitmer at a rally in her state today. He criticized the governor's mask mandate and urged the crowd to get her to "open up your state" amid the pandemic.
"And get your schools open," the president continued, as the crowd began chanting "lock her up."
"Lock 'em all up," Trump added, pausing as the chants grew.
Hours later, Whitmer responded by accusing the president of putting her life in danger.
"This is exactly the rhetoric that has put me, my family, and other government officials' lives in danger while we try to save the lives of our fellow Americans. It needs to stop," the governor tweeted, alongside a clip from the rally.
Whitmer's Deputy Digital Director Tori Saylor condemned Trump for enabling "violent rhetoric."
"I am the Governor's Deputy Digital Director. I see everything that is said about and to her online," Saylor tweeted. "Every single time the President does this at a rally, the violent rhetoric towards her immediately escalates on social media. It has to stop. It just has to."
Newsweek reached out to the Trump campaign for comment.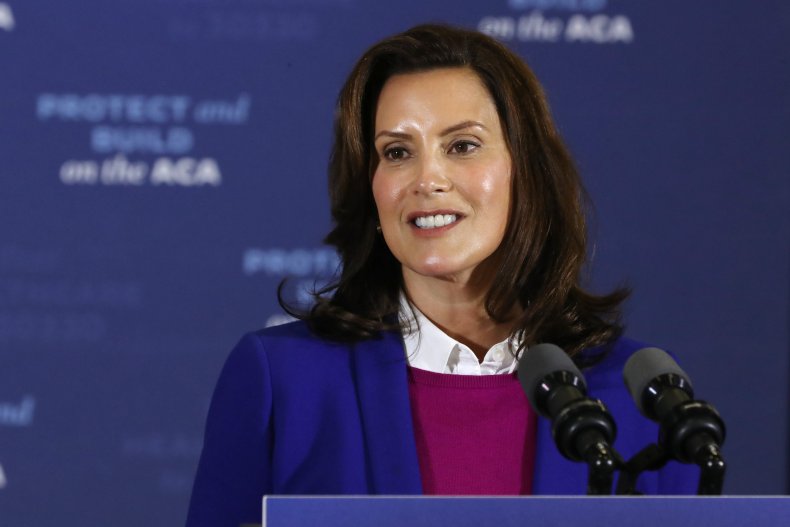 On October 8, federal prosecutors charged at least six men with plotting to kidnap Whitmer and overthrow Michigan's government because they were unhappy with the governor's lockdown orders. Authorities say the men monitored Whitmer, planned for months and reached out to an armed right-wing Michigan militia group.
Whitmer faced intense criticism from far-right protesters this year over her decision to enforce a lockdown to curb the spread of COVID-19. Hundreds of anti-lockdown demonstrators, some armed with guns, stormed the state's Capitol in May to demand an end of the governor's stay-at-home order.
Trump, who had tweeted "LIBERATE MICHIGAN" just days before the incident, called the protesters "very good people" and said Whitmer should "make a deal."
The Democratic governor has repeatedly associated the president's heated rhetoric with the plot to kidnap her.
"Just last week, the president of the United States stood before the American people and refused to condemn white supremacists and hate groups, like these two Michigan militia groups," she said after the FBI announced the kidnapping plot. "'Stand back and stand by,' he told them. 'Stand back and stand by.' Hate groups heard the president's words not as a rebuke but as a rallying cry, as a call to action."
Trump has strongly denied any link between his rhetoric and he kidnapping plot. "My Justice Department and Federal Law Enforcement announced today that they foiled a dangerous plot against the Governor of Michigan. Rather than say thank you, she calls me a White Supremacist," the president said, adding that he doesn't "tolerate any extreme violence."